Pioneering recording artist

James C. McAuliffe
Name
James C. McAuliffe
Lifetime
1859 - ?
Specialty
Irish bagpipe

---

McAuliffe recorded 14 bagpipe selections for Edison's National Phonograph Company from 1899 through 1903.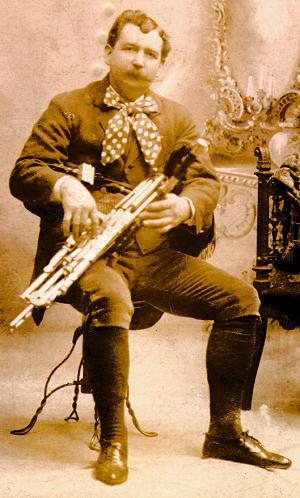 James C. McAuliffe with his Irish (uilleann) bagpipe. Date uncertain (1890s?).
A humorous story about this photo . . .
---
Related by John McAuliffe, great-grandson of James C. McAuliffe:

Working in a penitentiary at the time, John brought this photograph to work with him one day to have it framed. An inmate of the prison asked, "What is that, a Gatling gun?" The prison psychologist remarked to John that the inmate showed "the typical criminal response: anything tubular must be a weapon."
Later, when John brought the framed photograph home, his father asked, "What is that, a Gatling gun?"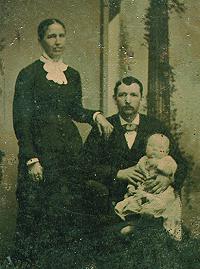 Tintype (ca. 1880) of wife Ellen S., James C., and son William.

Photocopy of obituary, Standard Press of Hoosick Falls (New York), date not known.
---
— The preceding photographs are from the collection of John McAuliffe —
(great-grandson of James C.)
---
---
---

Copyright (C) (P) 1996-2019 Glenn Sage, Portland, Oregon. All Rights Reserved. Contacting tinfoil.com.