The beautiful prologue to Pagliacci sung on a 1906 Edison Grand Opera cylinder by the great Italian baritone Antonio Scotti.
Prologo from Pagliacci
Company
Edison's National Phonograph Company
Cylinder #
B. 20
Category
Baritone solo in Italian
Title
Prologo, Pagliacci
Performed by
Antonio Scotti
Circa
1905-1906
Announcement
"Prologo di Pagliacci, cantata dal signor Scotti. Edison record."

(Translated from Italian: "Prologue of Pagliacci, sung by Mr. Scotti. Edison record.")
A fine example of the golden age of Edison's efforts in Grand Opera.
| | |
| --- | --- |
| To hear the Prologo from Pagliacci — | |

To hear an excerpt —

---
For help playing these sounds, click here.
Edison began his Grand Opera series of records in 1906 featuring first-rate recordings of stars of the New York Metropolitan Opera House, led by the preeminent baritone Antonio Scotti.
These records came packaged featuring handsome blue & gold printing on the carton (instead of the standard red & gold), light blue lettering on the cylinder (instead of the typical white), and carried a premium price of 75¢ (compared with 35¢ for the standard fare).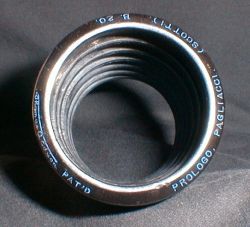 This selection was apparently recorded (and announced) by Scotti in London in 1905 and later released by Edison in May 1906. Ruggiero Leoncavallo's Pagliacci, first performed in 1892, was a young 13 years old when Scotti recorded this cylinder.
LETTER FROM SIGNOR SCOTTI

MILAN, October 9, 1905.

"I have great pleasure in informing you that the cylinders which I sang for you are excellent from every point of view, and I consider them as an absolutely natural reproduction of my voice. . . .

"(Signed) A. SCOTTI."

— January 1906 Edison Phonograph Monthly
---
— This cylinder of the month is from the Frank V. de Bellis collection at San Francisco State University —
---





---
To hear other examples of wax cylinders, see the
---
---

Copyright (C) (P) 1996-2023 Glenn Sage, Portland, Oregon. All Rights Reserved. Contacting Tinfoil.com.